---
Vignette
---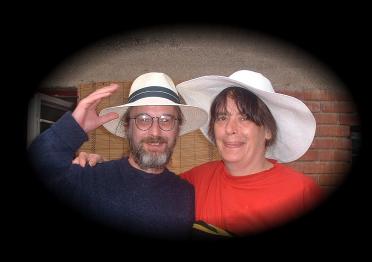 Chris and Lee
A vignette is a part of an image, often a face, made into an oval (usually) and faded at the edges; the term also refers to the edge-darkening you get on long-exposure photography caused by the greater amount of light focused at the centre of the film-plane.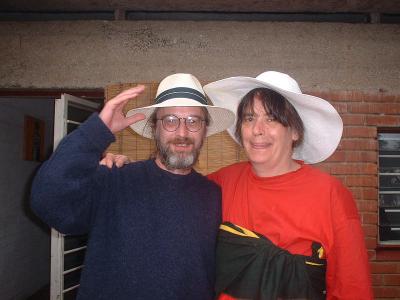 Original image (scaled)
Notes
Adjust the Feather value to suit. You have to do this before you make a selection; you can't change it afterwards.
If you need to use the vignette again, once you've made the selection open the Copy window menu, and go to Selection>Save to>#4 Alpha. You can now recover the selection later by choosing Copy>Selection>Load from>#4 Alpha, and it will be remembered if you save the file (in a format that knows about alpha channels, of course - TIFF or Photoshop are best).
An alternative method is to use the selection directly as a mask. Save the selection to an alpha channel as just described, then invert the channel (Channel window, drag and drop the channel name to the Invert icon). Fix. You may find you get a smoother effect by applying a largish gaussian blur to the mask, by editing the alpha channel directly. Then set the channel as the mask, and fill the image with colour.
To make the image at the top of this page, I first created a blank canvas and filled it with black, then dragged the oval selection into it.
To make the above picture illustrating the process, I used a similar technique but used the solid curves icon and drew round the relevant parts of a screen grab.
---