---
Straightening an Image
---
If you're anything like me, your beautifully composed photograph will have a wonky horizon. Here's how to straighten it out accurately.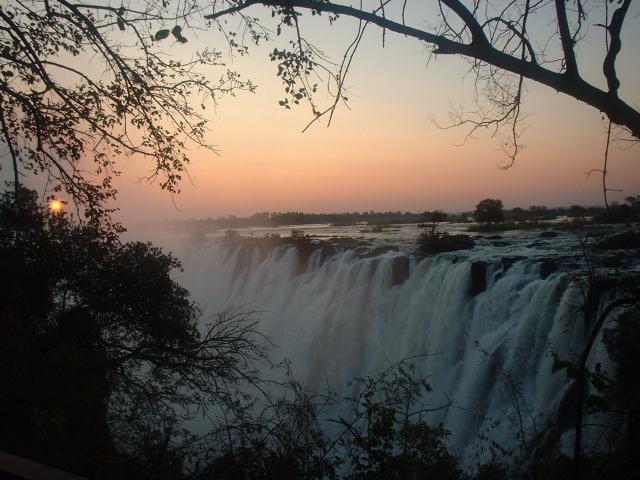 Victoria Falls at sunset [June 2001, Fuji FinePix 2300 digicam]
Photodesk is quite capable of performing rotations, but there's no preview or measurement facility and getting the right angle is just guesswork. But by switching to a different tool first you can get the information needed.
Open the Drawing tools window, and select Line-segment outlines.
Click on the Information icon in the toolbar (on the far left). The second section should be showing an angle icon and values labelled A and D (currently blank). The first is what we're interested in.
Click once in your image, on a point on the horizon. The A and D icons will now show values, updating as you move the pointer around.
Move the pointer so the line preview follows the horizon line, and take a note of the value in the A field: 1.48° here. It's best to make the line as long as possible.

Finding the angle

Press Escape to cancel the line-drawing operation (we don't actually want to draw anything).
Now type Ctrl-R to open the Rotate image window (or select the Photodesk>Image>Rotate... menu entry).
Select Arbitrary, and enter the negated value from the A field (ie, enter -1.48):

Setting up the rotation

If it's important to preserve your image right out to the edges, select Resize to fit, otherwise choose Lose corners, which will chop off parts falling outside the image size.
Now click on Rotate.
Finally, use the Crop tool to get rid of the white corners generated by the rotation. You should get something like this:

The Falls, straightened

If you get it wrong (and it can be surprisingly difficult - the example here isn't quite right, for instance), undo and start again - don't rotate the rotated image again. Every time you rotate an image you lose information, unless it's by a multiple of 90°.
---