---
Halftone Text
---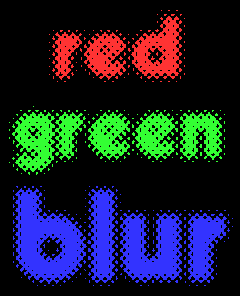 Halftone text
I spent some time looking for a way of getting this effect in Photodesk before realising that it's quite easy with Sophie Wilson's ChangeFSI (supplied free with all versions of RISC OS). So until someone produces a halftone plugin for Photodesk...
First ensure you have both Photodesk and ChangeFSI on your iconbar
Create your text in Photodesk, in white on a black background. Very bold fonts work best - the above uses Kabled at 64pt and 96pt
Open ChangeFSI's main menu and go to the Processing dialogue box. Ensure Disable dithering and Smoothing (the default of 4 is OK) are ticked:

ChangeFSI's processing options

Now go to ChangeFSI's Sprite output dialogue, again on its main menu
Select Special, and enter "c" in the writeable icon
Click on the 2 icon in the colours section

ChangeFSI's output options

Now open the menu over your Photodesk image, click on Photodesk:File>Save as... and select the Sprite format from the pull-down menu.
Drag and drop the file icon on to the ChangeFSI icon
You should now be looking at a halftone version of your original. If you're happy, open this image's menu, go to Save image and drag-and-drop the icon back on to Photodesk's icon
The result will be a 1 bit per pixel monochrome indexed image, so before you do anything further change it to RGB (from the Channels menu)
Notes
You can get some variations by changing the Smoothing setting in ChangeFSI, or blurring the source in Photodesk first
Try passing the halftone image through ChangeFSI more than once (drop the save icon back on to ChangeFSI)
Try other Special parameters: d and t give slightly smaller halftoning dots. See the documentation inside ChangeFSI for explanations of what these actually do.
---